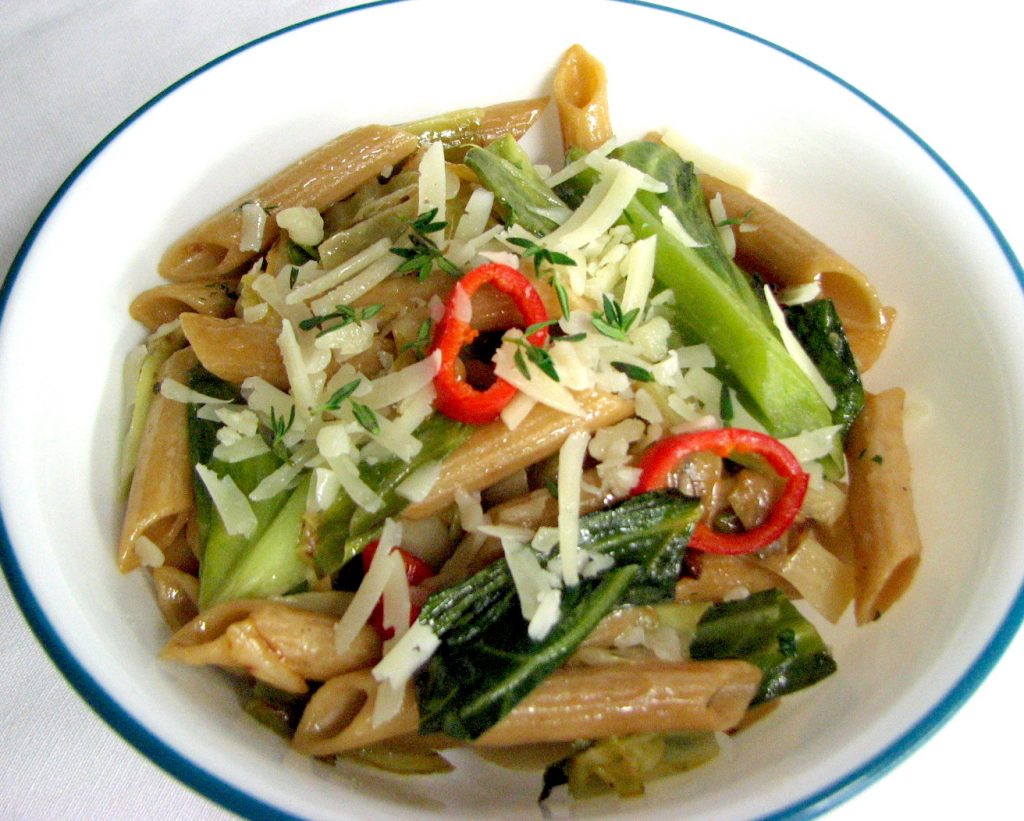 Splurge on the cheese for this dish, the economy of the main ingredients (pasta and cabbage), allow for purchasing a really good cheese and still staying within budget. Any aged white cheese (e.g., parmesan, cheddar, provolone, manchego) will do.
Serves 4
Serving Size: 1½ cups
Prep Time: 15 minutes
Cook Time: 30 minutes
Total Time: 45 minutes
Ingredients:
6 ounces (approximately 2¼ cups) uncooked whole-wheat penne

3 tablespoons olive oil

2 garlic cloves, thinly sliced

6 cups coarsely chopped green cabbage

½ teaspoon kosher salt

¼ teaspoon freshly ground black pepper

½ red (or green) jalapeño pepper, thinly sliced

1 teaspoons grated lemon rind

3 ounces (approximately ¾ cup) parmesan cheese, shredded and divided

2 teaspoons fresh thyme leaves
Directions:
Bring a large saucepan filled with water to a boil.

Add pasta; cook according to instructions on package. Drain, reserving ¼ cup cooking liquid to be used later.

Heat a large skillet over medium heat. Add oil; swirl to coat. Add garlic to pan; sauté 30 seconds, or until beginning to brown. Remove garlic from pan; set aside.

Add cabbage to pan and cover; cook 10 minutes or until browned and tender, stirring occasionally.

Remove lid. Stir in salt, black pepper, and jalapeño pepper; cook 2 minutes.

Stir in pasta, reserved ¼ cup pasta cooking liquid, and reserved garlic. Stir in rind and half the cheese (1½ ounces).

Divide pasta mixture among 4 bowls. Sprinkle evenly with remaining cheese (1½ ounces) and thyme.
Nutrition Information per Serving:
Serving Size: 1½ cups

Vegetables: 1½ cups

Fruits: 0 cups

Calories: 338 calories

Carbohydrates: 39 grams

Fiber: 7 grams

Protein: 13 grams

Fat: 16 grams

Sodium: 319 mg