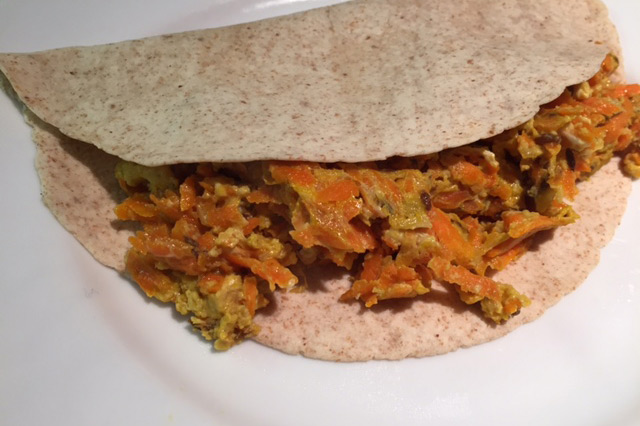 This makes a great side dish and can also be used as a filling for tacos. The ginger garlic paste can be substituted with freshly grated ginger and finely chopped garlic.
 Serves 2
Serving Size: ½ cup
Prep Time: 10 minutes
Cook Time: 15 minutes
Total Time: 25 minutes 
Ingredients:
2 teaspoons olive oil

2 teaspoons cumin seeds

½ teaspoon ginger garlic paste (or fresh grated ginger and finely chopped garlic)

1 cup finely chopped carrots

¼ teaspoon salt

2 medium eggs, beaten

1 teaspoon ground black pepper
Directions:
Heat a medium skillet over medium heat.

Add 2 tablespoons olive oil to pan and swirl to coat.

Once oil is hot, add the cumin seeds and the ginger garlic paste. Sauté for 2 minutes, taking care not to burn the ginger garlic paste.

Add the finely chopped carrots and stir. Then, add 2 tablespoons of water, cover, and let the carrots cook until tender (about 10 minutes).

Once the carrots are tender, add salt, and mix.

Add in the eggs and scramble them. Let the eggs cook for 3-4 minutes.

Add the pepper and serve.

 
Nutrition Information per Serving:
Serving Size: ½ cup

Vegetables: ⅓ cup

Fruits: 0 cups

Calories: 139 calories

Carbohydrates: 8 grams

Fiber: 2 grams

Protein: 7 grams

Fat: 9 grams

Sodium: 401 mg