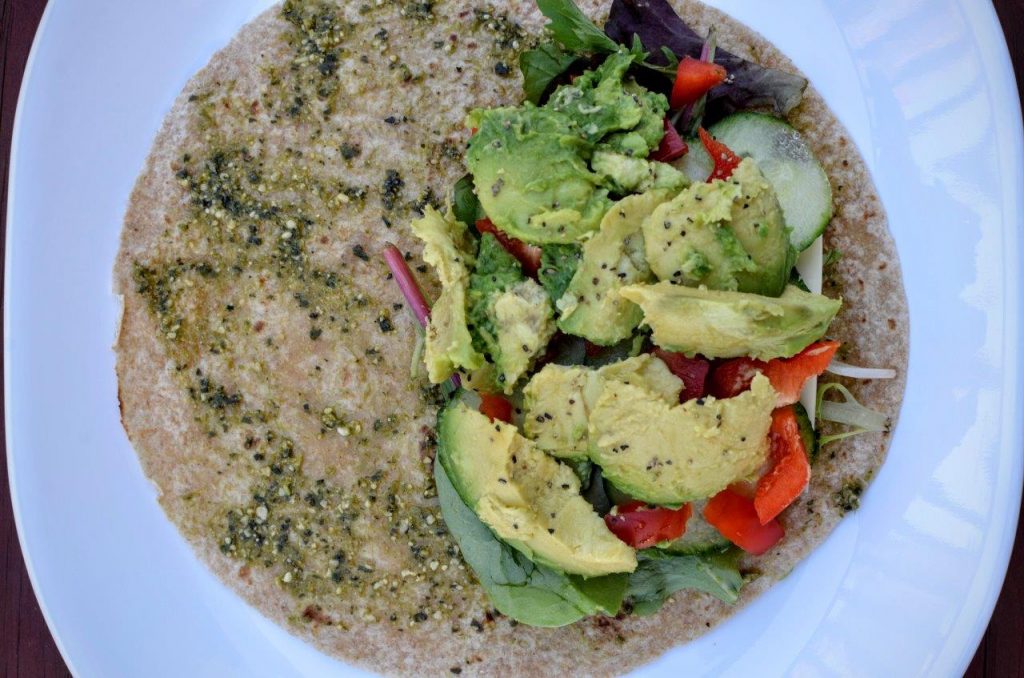 This is a quick and easy lunch option. It takes only a few minutes to assemble if you have the ingredients in stock.
Serves 1
Serving Size: 1 wrap
Prep Time: 10 minutes
Cook Time: 10-12 seconds
Total Time: 10 minutes
Ingredients:
1 (8-inch) 100% whole-wheat tortilla

1 tablespoon basil pesto

½ cup mixed greens

1 ounce Pepper Jack or American cheese, sliced

½ cup chopped tomatoes

½ cup chopped cucumber

½ cup sliced avocado

1 fresh green chili, finely diced (optional)
Directions:
Warm the tortilla in microwave for 10 – 12 seconds.

Spread the basil pesto evenly all over the tortilla.

Place mixed greens, cheese slice, tomatoes, cucumber, avocado, and green chili on one side of the tortilla.

Wrap all ingredients in the tortilla by carefully folding in the sides and rolling the side with ingredients towards the empty side.
Nutrition Information per Serving: (Based on 1 slice pepper jack cheese and 1 fresh green chili)
Serving Size: 1 wrap

Vegetables: 2½ cups

Fruits: 0 cups

Calories: 450 calories

Carbohydrates: 36 grams

Fiber: 12 grams

Protein: 14 grams

Fat: 31 grams

Sodium: 720 mg