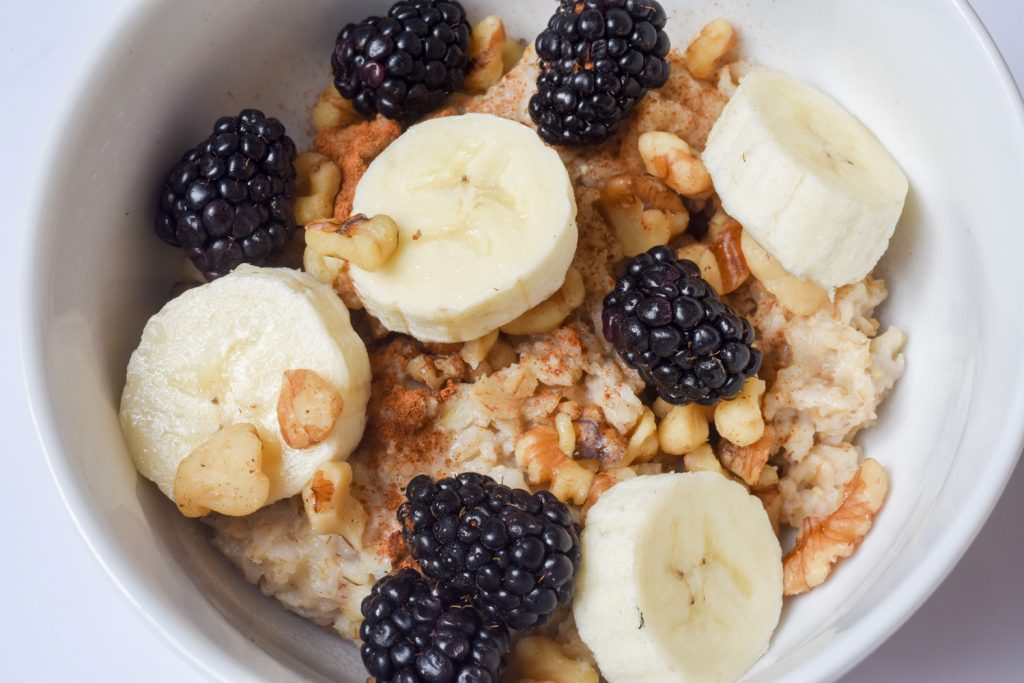 This recipe calls for steel-cut oats, but can also be made with old-fashioned or rolled oats which have a quicker cooking time (about 5 minutes). If using steel-cut oats, save time by making a large batch on Sunday and keeping the leftovers in the fridge to reheat small batches throughout the week. This will give you a delicious and convenient breakfast option all week long. Reheating tip: Add ¼ cup of milk to each 1 cup batch of cold oatmeal, heat in the microwave for 1 ½ minutes or on top of the stove for 3-4 minutes, and stir before eating. Feel free to substitute the bananas, blackberries, and walnuts with your favorite types of fruits and nuts.
Serves 4
Serving Size: 1½ cups
Prep Time: 5 minutes
Cook Time: (Oats: 20-30 minutes)
Total Time: 25-35 minutes
Ingredients:
1 cup steel-cut oats, uncooked (alternative: 2 cups old fashioned or rolled oats, uncooked)

Dash of salt (optional)–

added while cooking

½ cup walnut meats (unsalted)

1 cup blackberries

1 medium banana, sliced

Cinnamon sprinkled on top
Directions:
Prepare oatmeal according to package instructions. If desired, add salt while cooking.  

Add nuts, fruit, and cinnamon to prepared oatmeal. Enjoy!
Nutrition Information per Serving: (Based on 1 cup uncooked steel-cut oats, dash of salt, and ¼ teaspoon cinnamon)
Serving Size: 1½ cups

Vegetables: 0 cups

Fruits: ½ cup

Calories: 259 calories

Carbohydrates: 34 grams

Fiber: 8 grams

Protein: 8 grams

Fat: 11 grams

Sodium: 43 mg