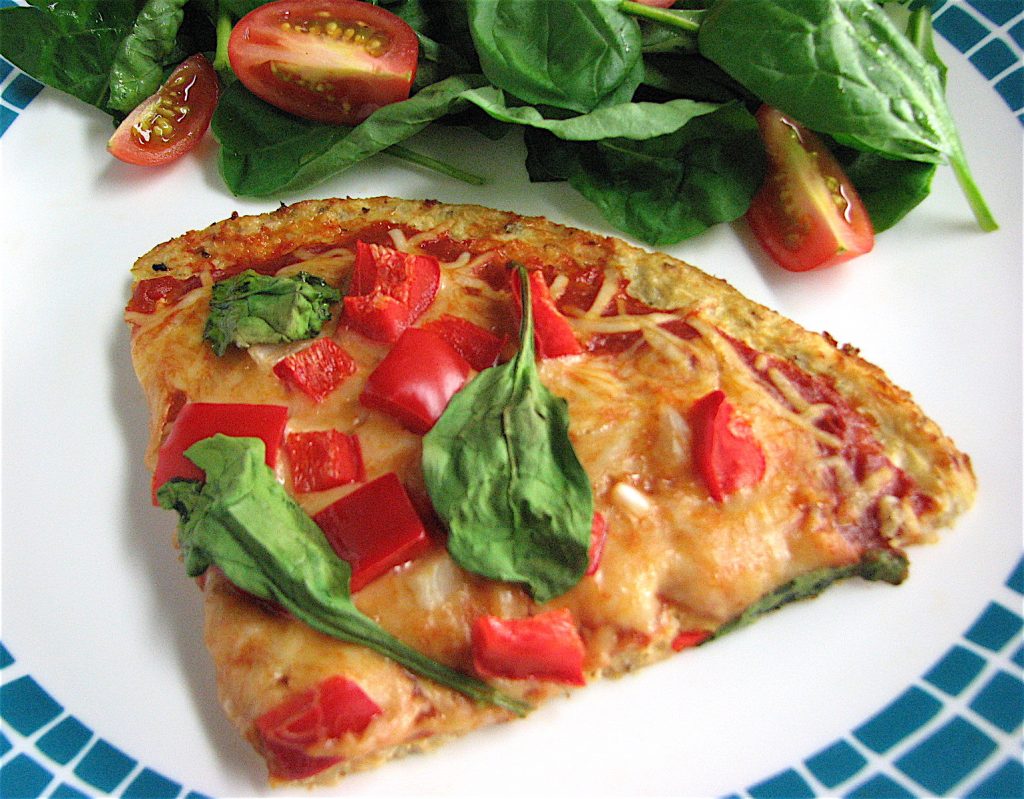 You need to try this cauliflower crust, even if you are not a fan of cauliflower. You won't believe how good it is! The key is to remove as much water from the cauliflower as possible and to pile on the vegetables. Make this recipe your own by substituting the vegetables in the recipe for your favorite vegetable toppings. This is a delicious alternative to traditional pizza that you will feel good about eating.
Serves 4
Serving Size: ¼ pizza
Prep Time: 30 minutes
Cool Time: 10 minutes
Cook Time: 18- 32 minutes
Total Time: 58 minutes – 1 hour and 12 minutes
Ingredients:
1 medium head cauliflower, outer leaves and stem removed, cut into florets

¼ teaspoon salt

¼ teaspoon dried oregano

¼ teaspoon dried basil

¼ teaspoon garlic powder

2 tablespoons finely shredded Parmesan cheese

1 egg, beaten

½ cup low-sodium tomato sauce

¾ cup finely shredded mozzarella cheese

1 medium red bell pepper, chopped

½ small yellow onion, chopped

1 cup baby spinach leaves
Directions:
Preheat oven to 425º F. Prepare a pizza stone or baking sheet with parchment paper and spray with cooking spray.

Place cauliflower florets into food processor and pulse until finely crumbled (you will need approximately 3 cups).

Place cauliflower in a microwave safe bowl, cover, and cook on high 5 minutes or until soft. If a microwave is not available, you can steam the cauliflower on the stove top by bringing 1-2 inches of water to boil in a sauce pan and then inserting a steamer basket filled with the cauliflower and covering to steam for 5 minutes or until soft (note: water level should be below the bottom of the steamer basket so it does not come in contact with the cauliflower). 

Cool cauliflower in refrigerator for about 10  minutes.

Pile cauliflower onto a clean dish towel and squeeze out excess liquid – getting out the most liquid possible is the key to a firm crust.

Once you have removed as much liquid from the cauliflower as you can, place the cauliflower, salt, oregano, basil, garlic powder, Parmesan cheese, and egg in a large bowl. Mix well with your hands.

Transfer dough to the prepared pizza stone or baking sheet and press into a 10 – 12 inch circle that has the same thickness throughout.

Bake for 10 – 20 minutes until crust is golden brown.

Remove from oven, top with tomato sauce, mozzarella cheese, bell pepper, onion, and spinach.

Return to oven and bake for an additional 8-12 minutes.
Nutrition Information per Serving:
Serving Size: ¼ pizza

Vegetables: 1¾ cups

Fruits: 0 cups

Calories: 157 calories

Carbohydrates: 14 grams

Fiber: 5 grams

Protein: 12 grams

Fat: 7 grams

Sodium: 394 mg