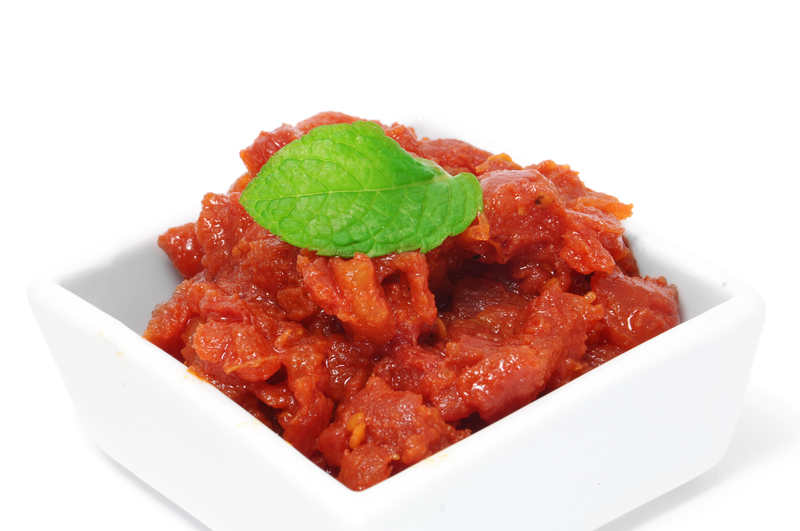 Sofrito is a sauce that is used as a base for many Mediterranean dishes, including soups and sauces.  It is a flavorful condiment over chicken, fish, and vegetables. For fans of spicy foods, substitute some or all of the bell peppers in the recipe for hotter peppers.
Serves 20
Serving Size: 5 tablespoons
Prep Time: 15 minutes
Cook Time: 2 hours
Total Time: 2 hours 15 minutes
Ingredients:
2 tablespoons olive oil

2-3 garlic cloves, pressed

2 medium green bell peppers, seeded and chopped

1 medium red bell pepper, seeded and chopped

½ large white onion, chopped

4 medium tomatoes, diced

½ tablespoon dried basil

Salt to taste

Ground black pepper to taste
Directions:
Place all ingredients in a saucepan and cover.

Simmer very slowly for two hours, stirring occasionally.

Add water if thinner consistency is desired.
Nutrition Information per Serving:(Based on 3 garlic cloves, ¼ teaspoon salt, and ¼ teaspoon ground black pepper)
Serving Size: 5 tablespoons

Vegetables: ¼ cup

Fruits: 0 cups

Calories: 23 calories

Carbohydrates: 2 grams

Fiber: 1 gram

Protein: 0 grams

Fat: 1 gram

Sodium: 31 mg