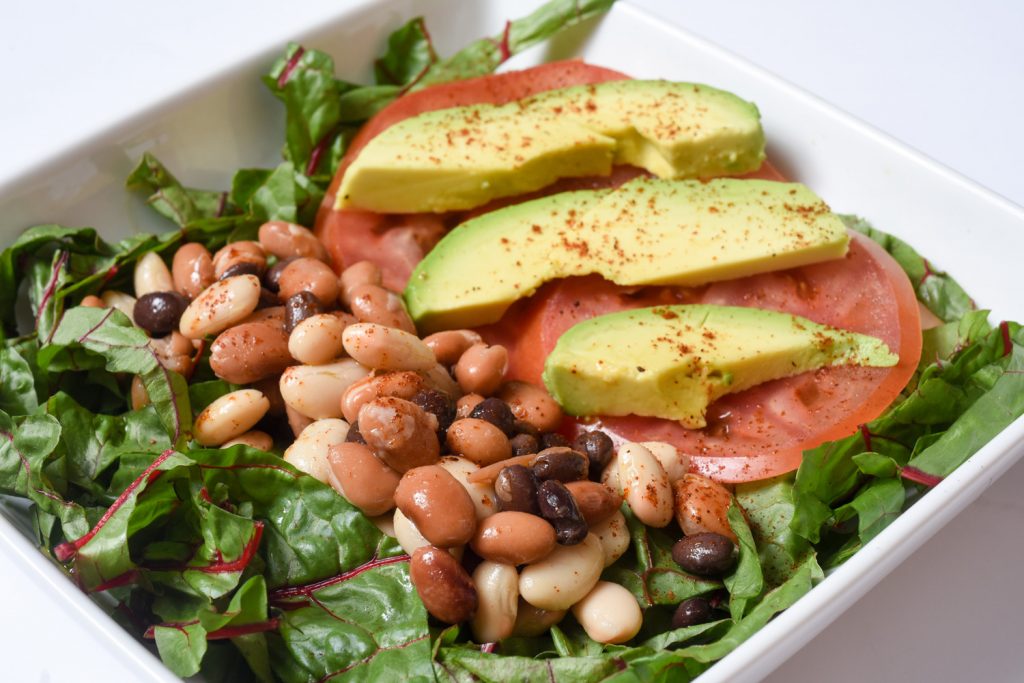 This salad is as beautiful as it is delicious. The recipe calls for making one large salad to serve family style. You can also make individual salads as well. The lemon juice helps keep the avocado from turning dark so you could make this a few hours ahead and keep in the refrigerator.
Serves 6
Serving Size: 1¼ cups
Prep Time: 15 minutes
Total Time: 15 minutes
Ingredients:
Salad:
12-15 loose-leaf lettuce leaves (red or green) or swiss chard

2 ripe avocados

2 tablespoons lemon juice (approximately 1 lemon)

4 medium tomatoes

2 cups cooked mixed beans (canned: rinsed and drained, or use home-cooked beans)
Dressing:  
4 tablespoons olive oil

2 tablespoons white vinegar

Pinch of sugar

Pinch of chili powder
Directions:
Line a large serving bowl with the lettuce leaves.

Cut the avocados in half and remove the pits. Thinly slice the flesh and sprinkle with lemon juice. Thinly slice the tomatoes.

Arrange the avocado and tomatoes around the salad bowl, leaving a space in the center.

Spoon the mixed beans into the center of the salad.

Whisk the dressing ingredients together and pour over the salad.
Nutrition Information per Serving:
Serving Size: 1¼ cups

Vegetables: 1¼ cups

Fruits: 0 cups

Calories: 255 calories

Carbohydrates: 23 grams

Fiber: 8 grams

Protein: 8 grams

Fat: 16 grams

Sodium: 17 mg