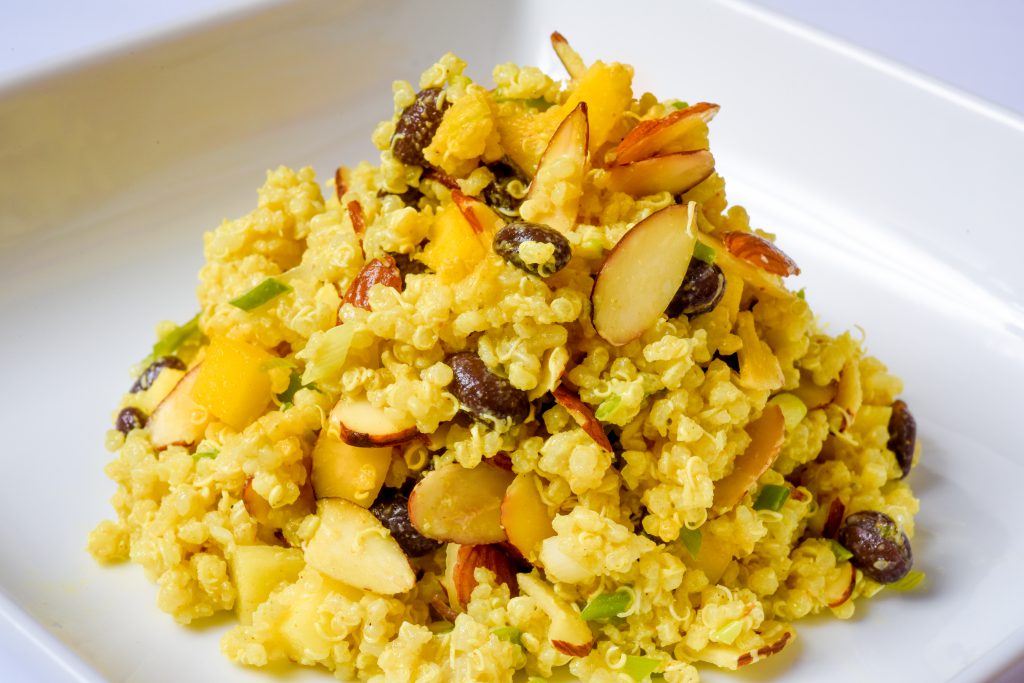 This is a great side dish or can be a main dish if added to a large vegetable salad.
Serves 4 as a side dish, 2 as a main dish
Serving Size: ¾ cup
Prep Time: 15 minutes
Cook Time: 15 minutes (for quinoa)
Total Time: 30 minutes (less if using already prepared quinoa)
Ingredients:
Salad:
2 cups cooked quinoa

[1]

1 mango, chopped

1 cup black beans (canned is fine, just choose low-sodium and rinse well)

¼ cup chopped green onions

½ cup sliced almonds, toasted
Vinaigrette:
2 tablespoons plain, fat-free Greek yogurt

2 teaspoons curry powder

2 tablespoons lemon juice

4 tablespoons olive oil
Directions:
Combine the quinoa, mango, black beans, green onions, and almonds in a large bowl.

Make the vinaigrette by shaking all ingredients in a screw top jar or plastic container with tight fitting lid.

Dress the salad just prior to serving.
Nutrition Information per Serving: (Based on 4 servings, as a side dish)
Serving Size: ¾ cup

Vegetables: ¼ cup

Fruits: ¼ cup

Calories: 423 calories

Carbohydrates: 46 grams

Fiber: 9 grams

Protein: 12 gram

Fat: 22 grams

Sodium: 75 mg
[1] Quinoa cooks quickly, so it is a great whole grain to use. A general rule of thumb for quinoa is 1 cup of grain and 1 cup of water yields 2 cups of cooked grain. It cooks in about 15-20 minutes.