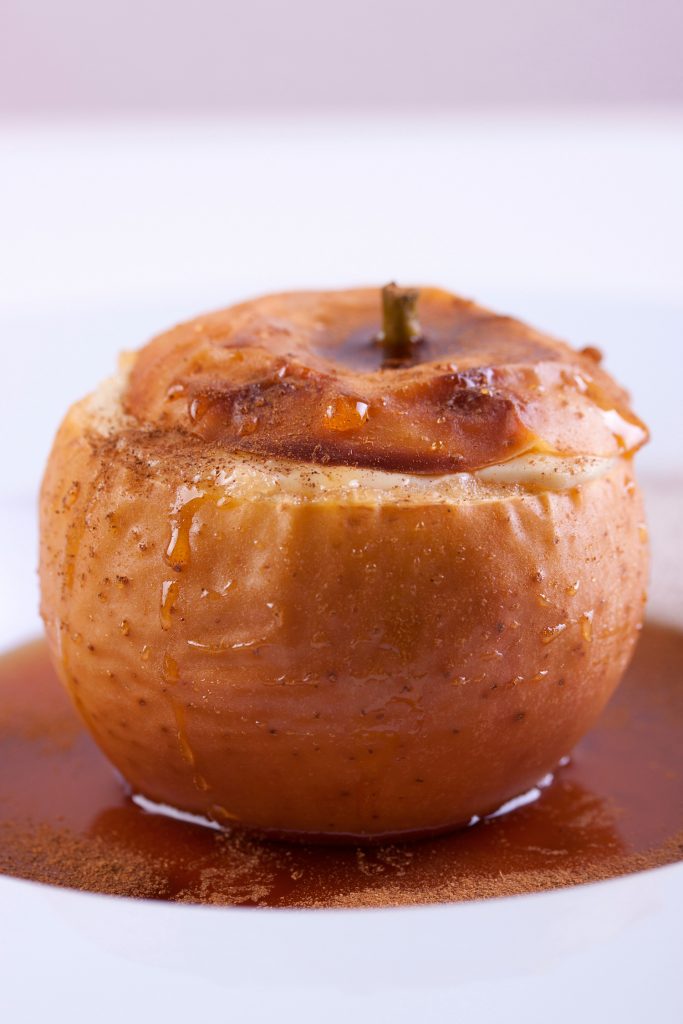 This is a super easy and super delicious dessert or snack. Any apple will work but firm apples such as Fuji, Gala, or Braeburn work best. You can change it up with different spices to suit your tastes.
Serves 2
Serving Size: 1 apple
Prep Time: 5 minutes
Cook Time: 4 minutes
Cool Time: 2 minutes
Total Time: 11 minutes
Ingredients:
2 apples

2 tablespoons brown sugar

1 teaspoon ground cinnamon

1 teaspoon ground nutmeg
Directions:
Core the apple, leaving the bottom intact.

In a bowl, mix brown sugar, cinnamon, and nutmeg. Spoon the sugar mixture into the apples.  

Place the apples in a deep casserole dish and cover with the lid.

Microwave for 3½ – 4 minutes or until tender.

Let the apples sit for 2 minutes before serving.
Nutrition Information per Serving:
Serving Size: 1 apple

Vegetables: 0 cups

Fruits: 1¼ cups

Calories: 133 calories

Carbohydrates: 34 grams

Fiber: 4 grams

Protein: 0 grams

Fat: 1 gram

Sodium: 6 mg