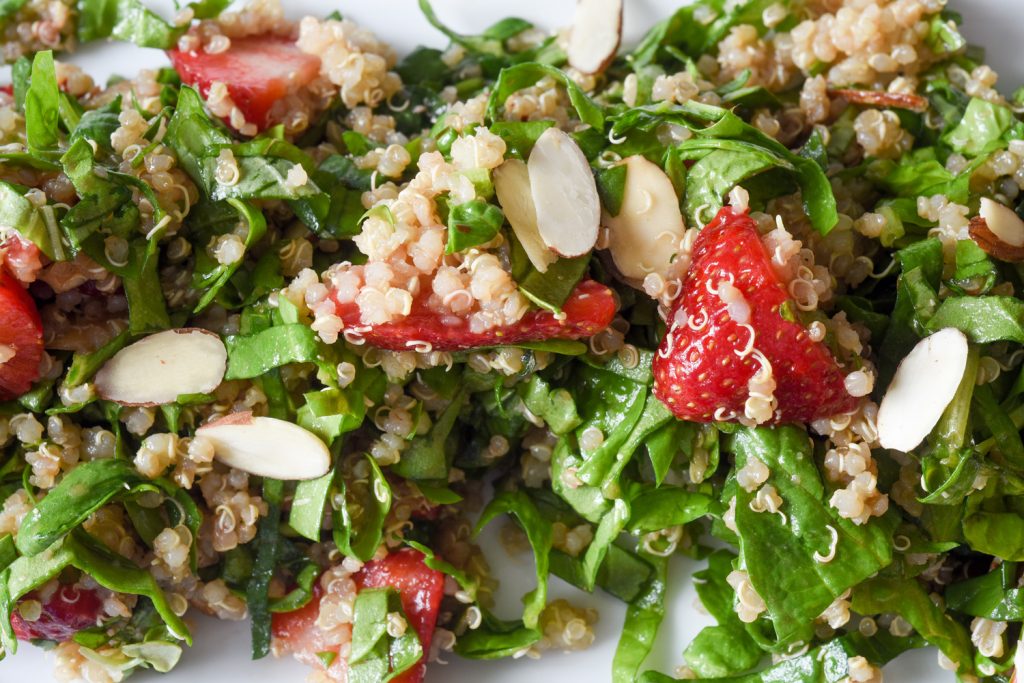 Quinoa is a popular whole grain thanks to its quick cooking time, high protein content, and nutty taste. The quinoa really soaks up the dressing in this recipe. Wait to dress the salad until right before serving.
Serves 4
Serving Size: 1 cup
Prep Time: 15 minutes
Cook Time: 20 minutes
Total Time: 35 minutes
Ingredients:
Salad:
½ cup dry quinoa

2 cups baby spinach leaves, chiffonade

⅔ cup sliced strawberries

2 tablespoons sliced almonds, toasted

1 handful of fresh basil leaves, chiffonade
Dressing:
2 tablespoons balsamic vinegar

1 teaspoon Dijon mustard


2 tablespoons olive oil

Salt and fresh ground pepper to taste
Directions:
Place quinoa in medium saucepan along with 1¾ cups water. Bring to boil, then cover and reduce heat to simmer for 15 minutes or until cooked.

Remove lid and cook until all water is evaporated. Remove from heat.

Make the dressing by combining all ingredients in a bowl or jar.

Place the quinoa, spinach, strawberries, toasted almonds, and basil in bowl and combine.

Add and toss in dressing just prior to serving. 

 
Nutrition Information per Serving:
(Based on ½ teaspoon salt and ½ teaspoon black pepper)
Serving Size: 1 cup

Vegetables: ½ cup

Fruits: ¼ cup

Calories: 182 calories

Carbohydrates: 18 grams

Fiber: 3 grams

Protein: 5 grams

Fat: 10 grams

Sodium: 33 mg