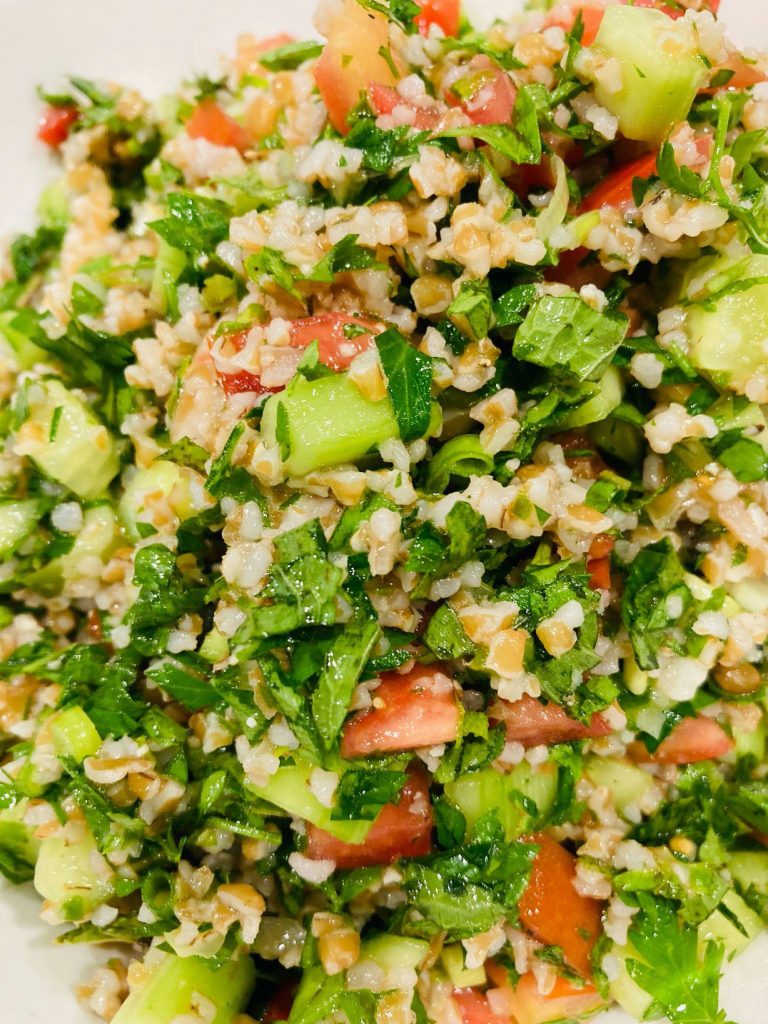 This authentic Middle Eastern dish is simple and lasts for several days refrigerated. Traditionally called Tabbouleh, this dish has a unique ingredient that won't disappoint – bulgar wheat!
Serves: 6
Serving size: ¾ cup
Prep time: 30 minutes
Cook time: 20 minutes
Total time: 45 – 55 minutes
Ingredients
½ cup bulgar wheat
1 cup boiling water
2 cups flat leaf parsley, chopped
½ cup mint, chopped
2 tomatoes, seeded and chopped
1 European cucumber, peeled, seeded, and chopped
2 green onions, finely chopped
3 Tablespoons olive oil
3 Tablespoons lemon juice (or more to taste)
Salt and pepper to taste
Directions
Place the bulgar in a large bowl and top with the boiling water. Stir to combine and cover. Set aside for 20 minutes.
Combine all other ingredients in another large bowl.
Fluff the bulgar with a fork and drain any excess water.
Combine bulgar with vegetables.
Adjust seasoning by adding more lemon, salt, or pepper as needed.
Refrigerate and serve cold.
Nutrition Information per Serving
Serving Size: ¾ cup
Calories: 120
Fat: 7 grams
Sodium: 20 mg
Carbohydrates: 13 grams
Fiber: 2 grams
Protein: 3 grams