The best part of a samosa is the filling. This dish is inspired by samosas without the frying or outside wrapper. They are delicious and the heat can easily be adjusted for your palate by how much cayenne you use. Placing the mixture in the refrigerator makes it much easier to make patties and sear in a non-stick pan. This is great with Cilantro Cashew Sauce. This makes a great appetizer (2 cakes per serving) or entrée (4 cakes per serving). The nutrient analysis is for 2 cakes.
Ingredients
2 large baking potatoes, peeled and cubed
1 Tablespoon canola oil
½ teaspoon coriander seeds
1 teaspoon cumin seeds
1 small onion, minced
1 inch piece of ginger, minced
1 jalapeno, minced
½ teaspoon cayenne pepper
1 teaspoon salt
2 egg whites
½ cup frozen green peas, cooked to package direction
Non-stick cooking spray
---
Directions
Boil potatoes until well cooked, drain and set aside.
Heat oil in a large sauté pan.
Add the coriander and cumin and cook for 30 seconds.
Add the onion, ginger, jalapeno, cayenne, and salt. Cook until onions are translucent.
Place potatoes in a large bowl and mash roughly with a fork or potato masher.
Add the onion mixture, peas, and egg whites. Mix to combine. The mixture should be lumpy.
Refrigerate for 30 minutes.
Form into 16 cakes.
Heat a non-stick pan over medium heat. Add the non-stick cooking spray.
Cook the cakes until brown and heated through on both sides.
Click label to see all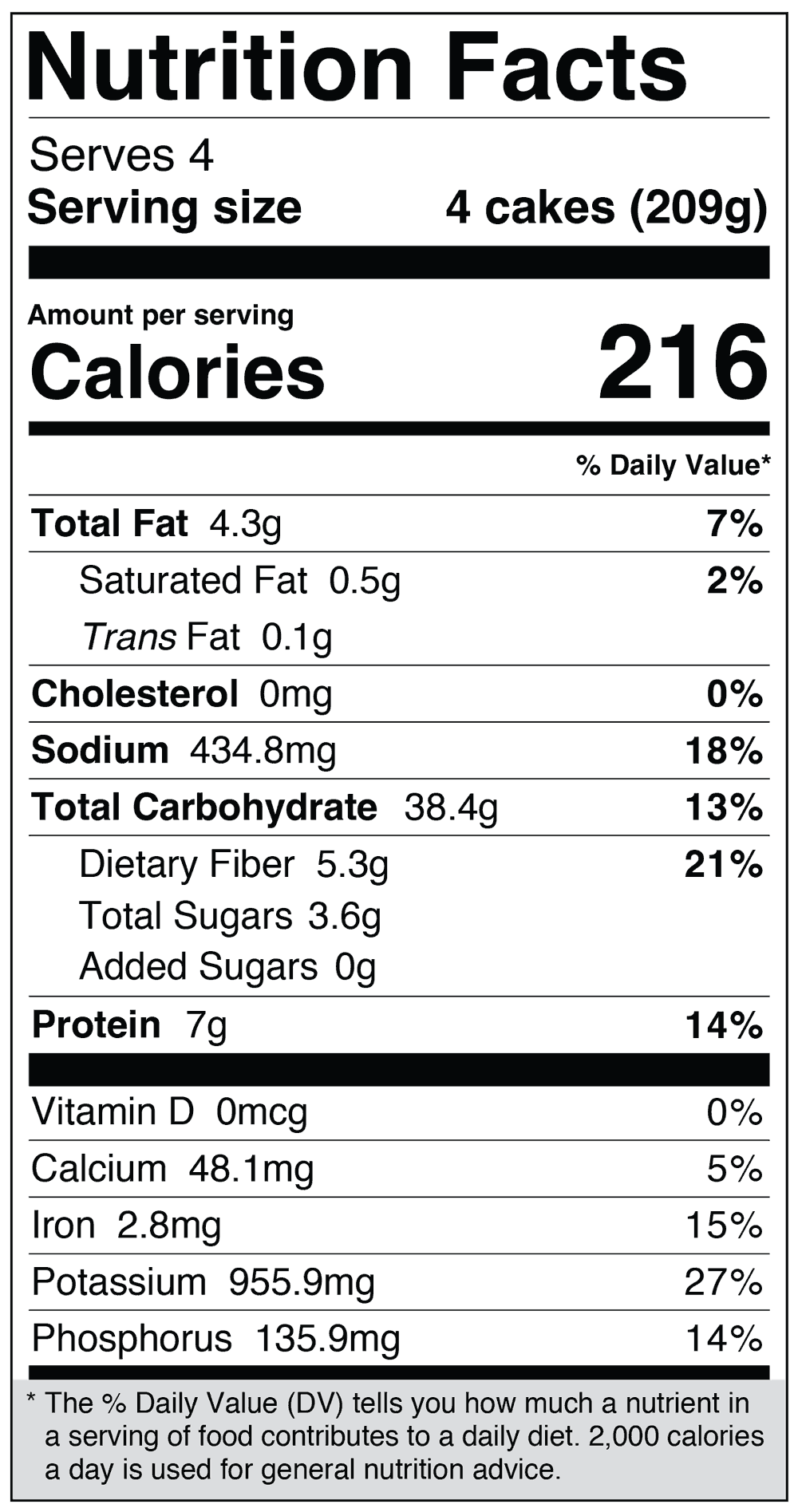 Serving Size: 2 cakes (94g)
Calories: 86
Carbohydrates: 16 grams
Fiber: 2 grams
Protein: 2 grams
Fat: 2 grams
Sodium: 295 mg